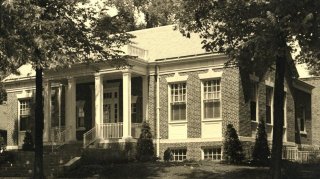 Class of '60 News
Recent News
---
Alumni News From Class of 1978
Jim Clevenger graduated from Liberty High School in 1978 as the Mo State Champion Golfer that year. He then went to CMSU where he became an All-American. He has been the head golf coach at West Point (Army) for the past 15 years. Clevenger will be inducted into the CMSU Sports Hall of Fame next month. >

Class of 1966 Working on 40th Reunion
The class of 1966 is working on their 40th reunion for this summer. At this point, an exact date has not been decided, but they are looking for addresses. You can e-mail them to leitze8748@aol.com or connie@cameron.net. They would love to have both mailing and e-mail addresses.
---
Brian Welles

C. Brian Welles passed away Saturday, October 29, 2005 after a 2-year battle with cancer.
Brian was a proud employee of Data Systems International, in Overland Park, KS. He served as a Senior Quality Control Specialist within their software development group. Brian was a 1965 graduate of Liberty High School (class president) and attended the University of Missouri in Columbia, MO. He was a Boy Scout and a Warrior in the Tribe of Mic-O-Say. He was an Army Staff Sergeant and a veteran of the Vietnam Conflict. Brian is survived by his wife of 25 years, Jane C. Welles of the home. He is also survived by his daughter Wendi Reinwald and grandson, Parker; son J. Alan Welles and granddaughter Lily; step-daughter Jennifer Gleason and husband Dwain; and step-son Michael Miller, wife Jami and Grandson Wesley; and his brother Alan Welles and Carita. Brian's family would like to thank Mike McGraw and Data Systems International for their support and concern throughout Brian's illness. Brian has gifted his body to the KU Willed Body Program. A Memorial Service will be held at the Liberty Christian Church at 7 p.m. Tuesday, November 1, 2005 with a visitation from 5:30-7 p.m.
In lieu of flowers, the family suggests donations to the charity of your choice in Brian's name.
(Arr: Church-ArcherPasley Funeral Home 816781-2000) Published in the Kansas City Star on 10/31/2005.
---
Drennen Sr., Danny Leroy
Danny Leroy Drennen, Sr., 63, Liberty, MO, died Tuesday, October 25, 2005, at his home. Funeral services will be 10 a.m., Saturday, October 29, at Church-Archer-Pasley Funeral Home, Liberty. Burial in New Fairview Cemetery, Liberty. Visitation will be 6-8 p.m., Friday, at the funeral home. Contributions may be made to American Cancer Society.
Danny was born July 31, 1942, in Spickard, MO, to Andrew and Ruth Alice (Cornwell) Drennen. He was a 1960 graduate of Liberty High School. Danny was a printer for many years, having worked for Reflections Printing. He was a member of Northern Knights Flying Club. Survivors include his wife Carol of the home; two daughters, Elizabeth Jenkins and Alice Crowley and her husband Danny; two sons, Danny Drennen, Jr. and his fiancee Shelly Blough, and John Drennen and his wife Row; fourteen grandchildren and two step-children, Jimmy Kincad and Lisa Kincad. (Arr: Church-Archer-Pasley Funeral Home, 816-781-2000
---
Christine Pugh

Christine Pugh's funeral will be Tuesday, September 13, at 10 a.m. at Second Baptist Church in Liberty. Visitation will be Monday, September 12, from 6-8 p.m. at Church-Archer-Pasley Funeral Home. Memorial contributions may be made to the William Jewell College U.R. Pugh Scholarship Fund. Christine Pugh was a long-time Liberty High School teacher and Chair of the Language Arts Department. She was a very special teacher.
---
Liberty High School Reunions

LHS CLASS OF 1980 25-YEAR REUNION
LHS class of 1980 will hold their reunion on Homecoming Weekend, Friday, September 30th, and Saturday, October 1st. Enjoy Friday nightÕs football game, and then itÕs on to The Landing after the game. On Saturday, weÕll have reception at Clayview Country Club from 7:30 PM until 12:00 AM with a DJ, snacks, soda and water provided. Casual attire is recommended. The cost is $10 per person in advance (see mailing address below) and $20 per person at the door. LHS Class of 1980 4319 NW Gateway Avenue PMB 1980 Riverside, MO 64150 For more info e-mail: Lhs1980@gmail.com

Class of '56 has finalized locations for their June 2-4, 2006 reunion activities.

Class of 1995
It's time for our 10-year class reunion! September 30, 5:30 - 7 PM, LHS football game and tailgate; meet at the southwest corner of the Mabee Center parking lot. Catered meal $8 for adults, $5 for 6-10 year olds, $2 for kids under 5. Classes of 1994 and 1996 are also welcome. Bring your families. All attending must RSVP by September 15 to Kim Bezdek Benage at 303-463-0363 or kbenage@hotmail.com . October 1, 7 PM, meet at The Landing at 1189 W. Hwy 152, on the patio for a casual outdoor gathering. No cost to you - buy your own drinks/appetizers.
---
Harvey E. Raymond Jr.

Harvey E. Raymond, Jr., 61, Omaha, NE, died Wed., August 17, 2005. He was preceded in death by his father, Harvey E. Raymond, Sr. He is survived by wife, Sue; daughter, Emily; mother, Mary Alice; sister, Carol Ackerson. Harvey was a graduate of William Jewell College in Liberty, MO, and most recently Human Resources Director at the Fremont Area Medical Center, Fremont, NE. Funeral service will be Saturday, 1 p.m., at First United Methodist Church, 7020 Cass St., Omaha, NE. Visitation Friday, 3-8 p.m. with family receiving friends from 6-8 p.m. at WestlawnHillcrest Funeral Home. Interment Monday, 1 p.m. at White Chapel Memorial Garden, Gladstone, MO. Memorials are suggested to the Care Corps in Fremont, NE, or Habitat for Humanity. (Arr; Westlawn-Hillcrest Funeral Home, 402-556-2500). Published in the Kansas City Star on 8/19/2005.
---
Lois Henderson Beedle ('60) became a grandma on June 22, 2005. Donald Robert Beedle was born at 5:11 a.m. Great Uncle is Richard Henderson, '65 and Great Aunt is Ruth Henderson Sprague, '62.
---
Liberty High School Class of 1955 To Host 50th Class Reunion June 3-4, 2005
Registration and social with a cash bar begins at 6 PM and dinner at 7 PM upstairs at the historic Hardware Cafe on Liberty Square (you pay).. On Saturday, June 4, a nostalgic tour of the old high school (which is now the junior high) begins at 1 PM.

1950's Class Reunions
From 3-6 PM Saturday, June 4, at Liberty High School, there will be an all inclusive class reunion of all the 1950's classes. Dinner will be catered at 6 PM at the high school. For any information concerning the 50th Class Reunion, please contact Jim Coleberd at 573-406-1263.

LHS Class of 1965 Invites the Classes of 1962-1968
The Liberty High Class of 1965 is celebrating their 40-year class reunion on June 10th at 7:00 PM at the home of Jerry McCaslin, 2525 Liberty Landing Road. The Class of �65 would like to share this evening with those whom we shared those great high school years. We cordially invite the Liberty High School classes of 1962-1968 to join with us in an evening of reminiscing and remembering. It will be a glorious night of �remember when� and �Gosh, great to see you, you look so good!� We will provide drinks and snacks. All we ask of you is, please join us! Mark your calendar now and plan to attend this evening and help make it a special time for all of us. See you June 10th!

1970 Reunion
The Class of 1970 will be holding a reunion party at Shadow Lawn Bed and Breakfast, 744 Nashua Road (Sara Loughrey Long�s home) on June 25 from 7:30-? Please provide your own refreshments and a lawn chair.. We also would like to invite the Classes of �68, �69, and �71. If you have any questions, please contact: Betty Lou Anderson at 781-8191, Sara Long at 781-4973, or Nancy Holt Brodbeck at 792-2282.

1989 Class Reunion
Friday, June 3, at 7 PM to close - Social at the Pubhouse in Liberty located on 291 Hwy by Price Chopper. Both the Class of 1989 and the Class of 1991 are invited.
Saturday, June 4, at 9:30 AM - A tour of LHS given by Dr. Martin Jacobs.
Saturday, June 4, from 12:00-4:00 PM - A family picnic at Jennifer (Stipa) True's land off of EE Hwy. A charge of $20 per family or $7 per individual will cover lunch catered by Smokestack Barbeque.
Please e-mail or call Stacey (Keith) Yahne to RSVP and for directions at syahne@kc.rr.com or 816-792-1869.
---
Funeral for Former Liberty Coach Ken Cokely
Coach Ken Cokely died Monday morning, May 9, at his home in the Pleasant Valley Nursing Home. Visitation is Thursday, May 12, from 1:00 to 2:00 at Liberty United Methodist Church. The funeral is Thursday beginning at 2:00 in the sanctuary of Liberty United Methodist Church. Liberty Public Schools had just honored him with a letter jacket a month ago. Coach turned 95 on April 27. For more information, call: 816-781-4554 (Methodist Church office).
Kenneth Cokely, 95, Liberty, MO, peacefully passed away Monday morning, May 9, 2005, at Pleasant Valley Manor. Coach was born April 27, 1910, in Grant City, MO, the son of John Jay and Gertrude Cokely. He met the love of his life, Elsa Gibson, in high school and would marry her in 1934 after graduating from Baker University. They were inseparable until her death in 2003. Ken's teaching and coaching career began in California, MO, and took them to Caledonia and Platte City before landing in Liberty, MO, in 1943. It was here in Liberty that their roots took hold; where they raised their two children and were incredibly active in the school and community. Ken was a fixture at school until his retirement in 1975. During those 32 years, he coached football, basketball, tennis, and track, taught girls PE during the war years, plus biology and drivers education; and served as athletic director. And in 1972, Liberty High School honored him with the dedication of the new gymnasium, "Cokely Fieldhouse." Although Ken had a heavy schedule with family, teaching, and coaching, he still found time to be active in the American Cancer Society, Meals on Wheels, Lion's Club, the Red Cross, and Liberty United Methodist Church. His good deeds earned him William Jewell's Outstanding Citizen Award in 1988, the Liberty Sertoma "Service to Mankind" award in 1991, and the Lions Club International Foundation Melvin Jones Fellowship. He was a loving husband, father, grandfather, and friend, and probably the best coach anyone could ever have. He will be greatly missed by all. He was preceded in death by his parents, his loving wife, his son John Kenneth Cokely, his brother Harold J. Cokely, and his sister Irene Spencer. He is survived by his daughter Kaye Megown and husband Larry, Hot Springs, AR; three grandchildren, Lori Megown, New York, NY, Mike Megown, St. Louis, MO, and Robyn Hart, Jefferson City, MO; and eight great-grandchildren. Funeral services will be 2 p.m. Thursday, May 12 at Liberty United Methodist Church, 1001 Sunset, Liberty; burial in Glenridge Cemetery, Liberty. Friends may call from 1 p.m. Thursday at the church. Memorial contributions can be made to the Liberty United Methodist Church or the Liberty Lions Club Ken Cokely Scholarship Fund. (Arr. Church-Archer-Pasley Funeral Home, 816-781-2000) Published in the Kansas City Star on 5/11/2005.
---
All classes from 1950 through 1959 will be holding the All 50's Class Reunion at Liberty High School on Saturday, June 4th. An open house will start at 3 PM followed by a sit-down dinner at 6 PM. Cost of dinner is $23 per person. Contact your class representative for further information.
1995 Class Reunion is Looking into Dates for This Fall. Contact Kim Bezdek Benage kbenage@hotmail.com, 303-463-0363.
Class of '65
The LHS class of '65 is planning a 40th class reunion for June 10 and 11. We would love to hear from anyone in the class that has not gotten information. Contact Mary Margaret Reppert Oberkrom mberkrom@kc.rr.com
1950's reunion to be held June 4, 2005. Each class will have their own gathering on June 3rd, with combined activities on June 4th.. If you are not contacted by your class coordinator soon, you can go to www..libertyhigh56.net  for reunion and contact information.
Class of 1990 LHS graduating class of 1990 is planning their 15-year class reunion. To learn more, contact: Stacey (Keith) Yahne  816-792-1869  syahne@kc.rr.com
LHS Class of 1985 wants to hear from you! The LHS class of '85 is gathering updated mailing addresses. Send your current mailing and email address to Janna Smith Perlinger, cpjp1993@comcast.net. Class of 1990
LHS graduating class of 1990 is planning their 15-year class reunion. To learn more, contact: Stacey (Keith) Yahne 816-792-1869 syahne@kc.rr.com
LHS Class of 1985 wants to hear from you! The LHS class of '85 is gathering updated mailing addresses. Send your current mailing and email address to Janna Smith Perlinger, cpjp1993@comcast.net
Mrs LaFrenz
On March 19th, Mrs. Irene LaFrenz, long time LHS teacher, will celebrate her 102nd birthday. Please remember Mrs. LaFrenz with a Birthday card for her 102nd birthday.
Note your graduation year on the card and mail to:

Mrs. Irene LaFrenz
Hawthorn Inn
3220 Independence Dr.
Danville, IL. 61832

Or you may email a message care of Martha, martha.kay@insightbb.com

This way to the Current News

This way to the 2004 News

This way to the Old News
This way to the REALLY Old News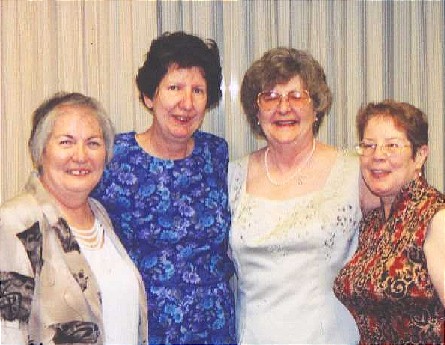 Web Volunteer

Return to BlueJay's Roost.




Powered by counter.bloke.com


Since January 14, 2002