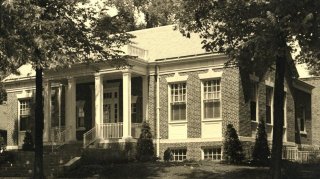 Class of '60 News
2006 News
December 6, 2006
Please keep Lowell Irminger in your prayers - Jim Pierce said last night that Lowell had triple by-pass surgery last night in FL -- Nancy and his daughter are with him.
---
Merical, Thelma M. Thelma M. Merical, 81, Liberty, MO died October 25, 2006. Funeral services will be 1:00 P.M., Monday, October 30 at First Baptist Church, Liberty with visitation starting at 11:00 A.M. Burial in New Hope Cemetery, Liberty. Thelma was born March 2, 1925. She was a member of First Baptist Church since 1939. Thelma was preceded in death by two sisters, Lottie Willis and Leola Erwin; two brothers, Alfred Helmon and Arthur Helmon and husband, Edgell Merical, Sr. Survivors include her children, Seawadon Houston (Carole), Arbelia Young (widow), Edgell Merical (Rosalyn) and Lela Carter (Karlos); 10 grandchildren, 11 great grandchildren and the father of her two oldest children, Samuel Houston. (Arr: ChurchArcher-Pasley Funeral Home 816-781-2000) Published in the Kansas City Star on 10/27/2006.
---
Marie Virginia Hall, 94, of Liberty, Missouri, passed away peacefully at home on July 5, 2006. Marie was born April 2, 1912, in Chamois, Missouri, the daughter of Arthur and Bessie Harrison. She married Lawrence D. Hall on January 12, 1934. She worked for the University of Missouri Extension Center in Liberty for 25 years, retiring in 1977. A longtime member and Elder of Liberty Christian Church, Marie served as assistant treasurer, Sunday school teacher, and served on many other committees as well. She was a founding member of the Town and Country Garden Club, past Matron of the Jewell Chapter of the Order of the Eastern Star, of which she has been a member for 75 years, member of the Soroptomist Club and Pythian Sisters. Marie was also a member of the Liberty Hospital Auxiliary and as many bridge clubs as possible. She loved to travel with the JJAM's. Marie was preceded in death by her husband, five brothers, two sisters, a son-in-law and one great granddaughter. She is survived by her daughters, Sandra Howard and Karen Russell; son Larry Hall and wife Donna, all of Liberty, Mo.; 7 grandchildren; 9 great grandchildren; one great great grandchild and a sister, Gladys Stonner of Las Vegas, NV. Memorial services will be 10 a.m. Friday, July 7, 2006, at Liberty Christian Church. In lieu of flowers, the family suggests contributions to the Liberty Christian Church. Cremation and private burial. Arrangements: Church-ArcherPasley Funeral Home, (816) 781-2000. Published in the Kansas City Star on 7/6/2006.
---
Liberty High School Class of 1966 will hold their 40th reunion August 11-12. Friday night will include a casual gathering at KC Bistro. All classes graduating in the 1960's are invited to stop by and visit from 7 -11 PM. Saturday night will be a dinner and festivities at Shoal Creek Golf Club. For information, please contact Jeanne Brodbeck Leitze at 781-8748, Leitze8748@aol.com or Connie Boggess Carder at Connie@cameron.net
---
April 6, 2006
A Death in the School Family

Manley Vance, former teacher and long-term principal in the Liberty School District died Monday, April 3 at his home in rural Liberty.
Visitation is Wednesday, April 5, at Liberty Christian Church, 427 E. Kansas from 6 - 8 PM. The Memorial Service is Thursday, April 6, at 10 AM at Liberty Christian Church. In lieu of flowers, memorial contributions should be made to: Liberty Christian Church, 427 East Kansas Street, Liberty, MO 64068 There will be a guestbook for people to sign online at: www.denewcomers.com

Mr. Vance worked for Liberty Public School from 1961-1986. He taught Physical Education before becoming principal at Alexander Doniphan and then Manor Hill Elementary Schools. He started and directed timber Trails Day Camp in 1972. His wife Lenna Vance taught elementary school from 1966-1986, and his daughter Vicki Vance taught in Liberty from 1970-1996. Mr. Vance was a great educator and a wonderful man who truly loved children.
---
March, 2006
We are looking for old pictures of Manor Hill. Contact Jim Dunn at jdunn@liberty.k12.mo.us if you have pictures you would be willing to share.
---
Liberty High School - Class of 1981 - 25 Year Reunion
Plans are now being made for the LHS Class of 1981's 25-Year Reunion to be held on Saturday, August 5. Events in the works include a high school tour & family picnic (afternoon) and reunion party at Clayview Country Club (evening). More details will follow. Please send your updated contact information (mailing & e-mail addresses) to LibertyHS81@kc.rr.com and remember to get the word out to classmates who are out of state. Liberty teachers of 1981 are welcome and encouraged to attend.

The Class of '76 30-Year Reunion
The Class of '76 has set August 25 and 26 as the dates for their 30-year reunion. Please contact the reunion committee at lhs1976grad@yahoo.com with your current contact information.
---
Febuary 17, 2006

We just learned this -
Doris Jean Elliott Floyd - '62
Abilene Reporter News
December 25, 2005
Doris Jean Floyd, 61, of Abilene passed away December 21, 2005. Services will be Tuesday at 10:30 a.m. at North's Memorial Chapel with Dr. Herb Wood officiating. Burial will be at Hawley Cemetery under the direction of North's Funeral Home. Visitation will be 6 - 7:30 p.m. Monday at North's Funeral Home, 242 Orange.
Doris Floyd was born January 5, 1944, in Liberty, Missouri, to Edgar and May Elliott. She married Bobby Terral in 1962 in Liberty; and they moved to Abilene in 1974, shortly before his death in 1977. She married Jimmy Floyd in 1987 and he died in 2002. For over 15 years, she worked as a direct caregiver at the Abilene State School and at Soma Resources for over five years, retiring in July of this year. She was a member of the Baptist church.
She was preceded in death by her parents, a sister, two husbands and a nephew.
She is survived by three daughters: Nancy Peterson of Branson, Missouri, Karla Moore and husband Eddie of Abilene, and Marie Gonzales and husband John of Abilene; one son Chris Floyd and fiancÚ Shana Fein of Abilene; four step-children: Larry Floyd, Gary and Debbie Floyd, and Jack and Donna Miller, all of Abilene, and Bill and Nancy Cooper of Huntington, West Virginia; one brother Edgar "Buddy" Elliott and wife Sarah of Liberty; grandchildren: Carolyn NeSmith, Kenneth NeSmith, Michael NeSmith, Heather Moore, Brandon Moore, Joshua Terral, and Justin Gonzales; eleven step-grandchildren; several great-grandchildren; and many nieces and nephews.
---
Febuary 12, 2006

Irene Froman LaFrenz, 102, died at Hawthorne Inn in Danville, IL, on Thursday, February 9, 2006. Visitation will be at 10 a.m., and funeral service at 11 a.m., on Tuesday, February 14, in Tutt Chapel, at Second Baptist Church in Liberty, MO. Dr. Stephen Graham of Second Baptist Church will officiate. Private burial will be at New Hope Cemetery in Liberty. Irene Froman was born on March 19, 1903, in a farmhouse near Liberty, the daughter of Marshall Froman and Martha Bell Froman. She was one of the first female graduates of William Jewell College, then taught math for nearly 30 years at Liberty High School. She was married for nearly 60 years to Daniel Vern LaFrenz, graduate of and professor of math at William Jewell. They had one daughter, Martha (Robert) Kay of Danville; two granddaughters, Nancy (Don) York of Louisville, KY, and Sara Youhas of Oakwood; and six greatgrandchildren. Irene LaFrenz was a member of the Fidelis Class at Second Baptist Church in Liberty, MO. Also she belonged to the Fortnightly Club, American Association of University Women, Delta Kappa Gamma, and Daughters of the American Revolution. She loved her family, her church, her garden, good books and the TV show Jeopardy. She was famous at Second Baptist Church for her raspberry pies. In lieu of flowers, memorials may be made to Second Baptist Church, 309 E. Franklin, Liberty, MO. (Arr. Church-Archer-Pasley, 816781-2000) Published in the Kansas City Star on 2/12/2006.
---
February 11, 2006
We have a definate date!! It will be Festival weekend - Sept 22, 23, and 24th. Combined reunion for the class of '60, '61, and '62. Stay tuned for more details.
---
February 8, 2006
Ruth S Groves
Ruth S. Groves of Liberty, MO (formerly of Bethany, MO) died February 6, 2006 at a Liberty, MO, hospital. She was born February 22, 1917 the daughter of Clarence and Ettie Sutton. She married Orval W. Groves in 1935. He survives of the home. Ruth and Orval were charter members of Liberty Manor Baptist Church and South Liberty Baptist Church were she served as treasurer at those churches for 27 years. Survivors in addition to her husband of 70 years are son, Richard Groves ('60) and wife, Mavis, Liberty; grandsons, Jason Groves and wife, Megan, Lee's Summit and Jordan Groves, Liberty; great-grandchild, Andrew; sister, Mary Barron, Marshall, MO; sister-in-law, Elta Sutton, Smithville; many nieces and nephews. Services will be held at the Liberty Manor Baptist Church, 1000 Birmingham Rd. Liberty, MO. Burial will be at Pleasant Ridge Cemetery, Bethany, MO at 3 p.m. The family will receive friends from 10-11 a.m. Saturday at the church under the direction of Roberson Funeral Home, Bethany, MO. In lieu of flowers the family suggest contributions to the Youth Ministry of Liberty Manor Baptist Church and/or Pleasant Ridge Cemetery Maintenance Fund in care of the Roberson Funeral Home PO Box 46 Bethany, MO 64424. Published in the Kansas City Star on 2/8/2006.
Our sympathy to Richard and the family.
---
February 1, 2006
The message below was received from Ann Stickford - who honestly thought a decision had been made. She is on the committee and was at the meeting. However - they have changed their minds and are going to pick a different date. But they haven't decided yet. If you want to see an organized class do visit the class of '56.
---
The first meeting of the 3 Class Reunion (60,61 and 62) met at Myron's house last Tuesday night -- our main goal was to set a date --took along time. This is what we decided -- know we can't please everyone, but we are trying!! I am sending out e-mails to everyone I have an address for with the date. If you know right now this is not good for you, please let me know right away as we meet in 2 weeks to send out more info -- if too many come back a NO in the next week or so, we might have to reconsider the date ----
Web Volunteer

Return to BlueJay's Roost.




Powered by counter.bloke.com


Since January 27, 2007