Thanks so much! Susan Newton
---
August 17, 2003
Lois Henderson Beedle is pleased to announce the wedding of her son John to Valeria Biddle on July 21, 2003. Among those attending were Richard Henderson ('65), Joyce Edwards ('61), Donna McCallister ('63), and Irene Jones ('61). A good time was had by all. Along with the wedding there was site seeing. Do visit the slideshow and enjoy the good times with us.
---
May 9, 2003
"Coach" Ken Cokely (of "Cokely Fieldhouse" at LHS) turned 93 on Sunday, April 27.Ê Ken and his wife, Elsa, live at Pleasant Valley Manor Care Center (6814 Sobbie Road, Liberty, MO 64068) Coach Cokely was our teacher and coach and was involved in the Liberty District for so many years!ÊÊ He would enjoy hearing from you.
March 28, 2003
1st District - Kansas City Council
Bill Skaggs, a former Missouri representative, easily defeated Andrew Inzerillo, a retired insurance salesman who has never held political office.
Skaggs won with 71 percent of the vote to Inzerillo's 29 percent.
Skaggs, 61, had been a state representative since 1982 and was forced out of office by term limits. He will replace Teresa Loar, who also left office because of term limits.
Skaggs said he wanted to address the needs of the older part of the Northland, some of which is yet to receive sewer lines and other services that were promised when the city annexed the area in 1950.
"I'm excited about the vote and the confidence that the people of the 1st District had in me," Skaggs said. "I look forward to going to work for them."
Inzerillo, 79, campaigned on the need for the mayor and council members to cut their pay by 20 percent and for the city to remove all parking meters downtown. He dismissed Skaggs as a career politician.
http://www.kansascity.com/mld/kansascity/news/5482097.htm From the KC Star - 3/26/03
Congratulations Bill.
March 19, 2003
Today is Mrs. LaFrenz's 100th birthday - it's not too late to send her an ecard via Martha ('56). The email address is mkay@soltec.net
March 16, 2003
This is Richard Groves. My e-mail is rgroves@sound.net The address you show for me on the website is correct.
Johnny Crouch still lives on the "Big Island" of Hawaii at Waikoloa on the northwest side of the island - just up the coast from Kona. His e-mail is hydrogen@kona.net Work phone is (808) 883-9411 John is married to Charlotte, who he met while living in Hawaii.
What prompted me to check the LHS website was a discussion at the 100th birthday celebration of Mrs. Irene Lafrenz in Danville, Illinois where she and Mr. Lafrenz moved about 15 years ago to be closer to their daughter, Martha. Mr. Vern Lafrenz died several years ago, but Mrs. Lafrenz is doing pretty well for someone 100 years old. Says she doesn't have any aches or pains and remembers all the old stuff really well. Isn't quite as good with recent information. She is quite alert, but can no longer read. She lives in a very nice nursing home on "Independence Circle" just off "Liberty Lane". Interesting connections.
Larry Elliot and Barbara Vaughn Dunn both told me about a Liberty High School website run by someone from the class of 1955 or 56. I don't think your website is the one. I couldn't find the one they were referring to. Spans 1952 to 1960 classes. Do you know about it? (webkeeper's note: see link to class of '56 on this page and the homepage, Martha was in that class)
In preparing for our visit I went to see Mrs. Christine Pugh, former teacher and good friend of Mrs. Lafrenz, so I could videotape her comments since she wouldn't be able to go to Danville. She, too, is doing quite well. 90 years old, very alert, and lives in a nursing home near Independence Center.
My wife, Mavis, and I drove to Danville for the birthday celebration yesterday. It was a great gathering of friends and relatives of a very beloved person.
We still live in Liberty - and hope to "forever". Our younger son, Jordan, teaches at Ft. Osage High School. Our older son, Jason, lives in Overland Park, KS, is an Admissions Counselor at William Jewell. His wife, Megan, is a doctor in her 1st year of residency at KU Medical Center. All are William Jewell graduates.
March 11, 2003
Word was received that our very own Bill Skaggs has won the primary election for the Kansas City Council, the general election is yet to come. Good luck Bill.
Joyce Edwards ('61) reports that Sara Jane Ponder recently broke her ankle but is recovering nicely.
Mr. William Adams - February 22, 2003
Word was received that Mr. William Adams (Bill) passed away. Mr. Adams was the father of John ('60), Bill ('58) and Mary Anne ('65). We remember him fondly and send our deepest sympathy to the family. Services were held at the Liberty Christian Church where he was a long time member.
William C. Adams Jr., 90, of Liberty, MO, died Wednesday, February 12, 2003, at Liberty Hospital. Funeral services will be 10 a.m. Saturday, February 15, 2003, at Liberty Christian Church, 425 E. Kansas, Liberty. Burial in New Hope Cemetery, Liberty. Friends may call from 7-9 p.m. Friday at Liberty Christian Church. In lieu of flowers, the family suggests contributions to Liberty Christian Church. Mr. Adams was born May 13, 1912, in Liberty, MO, the only son of William C. Sr. and Mary F. DeBerry Adams. He was a lifelong Liberty resident. Mr. Adams was a paint filler for Cook Paint and Varnish Company for 19 years retiring in 1977. He was a 50-year member of Liberty Masonic Lodge 31. He was also a member of the Jewel Chapter 492 Order of Eastern Star and the York Rite. Mr. Adams was a member of the Liberty Christian Church, where he was very active. He served as a deacon, as well as chaired numerous committees over his many years of membership. He was preceded in death by his parents as well as his wife Lucille, who died in 2000. Mr. Adams is survived by two sons, William C. Adams III, Liberty, MO, John DeBerry, Chicago, IL, and a daughter, Mary Anne Adams, Okemos, MI, a cousin, Mary Elizabeth "Betty" Shouse, Kansas City, two granddaughters and three great-grandsons. Bill will be remembered by his family and friends, for his gentle nature and sense of humor.
Published in the Kansas City Star on 2/14/2003.
Inez L. Wagner
Inez L. Wagner, Liberty, MO, passed away February 9, 2003, at Pleasant Valley Manor. She was born September 6, 1912, in St. Mary's, KS, to Ben and Ida Drury. The family later moved to Burden, KS. She was preceded in death by her husband, Harmon Wagner, in 1975. Harmon and Inez met at Pittsburg State University, Pittsburg, KS, where they both studied to be teachers. She taught school for 34 years; 25 years at Franklin Elementary, Liberty, MO. She is survived by one sister, Lucille Ferguson. She was preceded in death by her brothers, Orvil, Truman and Marvin Drury. Also surviving are her daughter, Ann Armstrong and son-in-law, John Armstrong of Parkville, MO, and several nieces and nephews. And last, but not least, her beloved granddogs, Cuddles and Spuds. She belonged to the Liberty United Methodist Church and donations may be made in her name. Private graveside services. (Arrangements: Church-ArcherPasley Funeral Home, Liberty, MO)
Published in the Kansas City Star on 2/10/2003.
Many of us remember Mrs. Wagner as our very first teacher, kindergarten was our introduction to the school world. Even those of us who might not have had her as a teacher will remember her from recess.
Mrs LaFrenz - February 11, 2003
A quick year has passed since we celebrated Mrs.LaFrenz 99th birthday, and now we want to honor as she celebrates her 100th.
As March 19th approaches again we are once again planning to honor her as a great teacher from earlier days at LHS as well a wonderful person, who is celebrating another milestone in life.
Martha is planning a celebration reception March 15, 2003 at the home where her mother lives in Danville, IL. All the information is posted on the class of '56 web site: http://libertyhigh56.net/ which also contains biographical history and a new opportunity to send in your memory or birthday greeting for posting.
It would be great if a substantial number could make the trip in her honor, but if that isn't possible please send a card or email greeting. Snail mail cards may be sent to: Irene LaFrenz
The Hawthorne Inn
3222 Independence Drive
Danville, Il. 61832
February 6, 2003
Recent news from Joyce Edwards ('61). There was a birthday bash for Sara Jo Eiker ('61) Sunday, February 2 and it seems most of the class of 60 and 61 were in attendance - at least those that live in the area.
From Joyce:
Sarah Ponder came in and we exchanged phone numbers. Loretta Houston who was a cousin to Seawaden is a singer with a band and sang. Very good. I remember her, was a freshman our senior year. Donna Hudlemeyer stayed for a while but then the music was so loud that she left. Jim Pence said he could take out his hearing aids but then he couldn't hear anyone who talked to him. Elaine Duvall wanted to know if I had seen Pat Cooper, told her what I knew about her. Judy Ferguson was there. Beverly Medley has moved back from Hawaii where her son lives. She is living in Blue Springs and works as a juvenile probation office, loves working with the children. And Alan Wells was there as well as Bill Skaggs. Jim Pence is have both knees totally replaced this spring. Bobby Joe Crisler is still working at Jones and is now a dept. head, no wonder I never see him anymore.
Betty Boone was at Church this morning and said this last week has been rather rough for them. She has a biopsy done. Her Mom had thyroid surgery and went into heart failure but is now home. Were lots more of both classes there but can't remember all of them. Also Jan Winsburough who said she was very jobless and very needy. Was really great seeing everyone and Myron says we should have had a planning meeting for the next reunion since we were all there.
This way to the 2002 news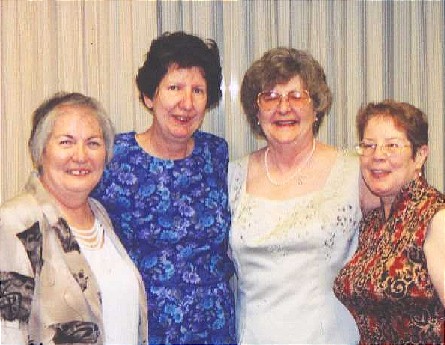 Web Volunteer

Return to BlueJay's Roost.




Powered by counter.bloke.com


Since January 14, 2002